Anyone who visited the car show at the Downton Cuckoo Fair on Saturday might have seen a blue Mini Cooper S bearing the Tuition First logo. So for those who would like to know more here is the story behind the car.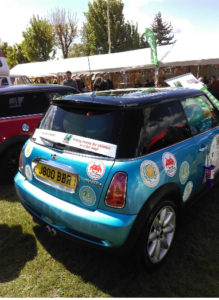 On October 20th this year, we (Mark and Janine Osmond) are taking part in the Italian Job Rally.
This navigational rally starts in Imola, Italy and winds its way to Rome before then heading back north to Turin. It is an annual touring event incorporating driving on a Grand Prix circuit, visiting local food and wine producers and discovering off-the-beaten track places. Only vehicles that were featured in the Italian Job film can participate. From Turin 60 + Mini cars, of all ages, will head back to London for a gala dinner and prize giving.
We (Mark and Janine) have paid for our rally entry and all associated costs and know we will have a lot of fun, however, we are raising money for the Buttle charity – and this is where you come in….. Buttle UK provides funds to give "Chances for children", a cause very close to the whole ethos of Tuition First.
Any donations should be made to our Just Giving Page. Thank you.