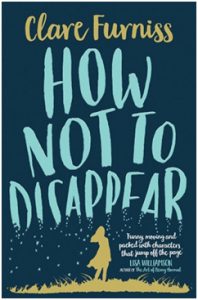 Holiday reading and reading for pleasure should be encouraged. It's a great pass time but it also helps with your youngster's education in general.
"Evidence suggests that children who read for enjoyment every day not only perform better in reading tests than those who don't, but also develop a broader vocabulary, increased general knowledge and a better understanding of other cultures.
"In fact, reading for pleasure is more likely to determine whether a child does well at school than their social or economic background," according to Pearson the group that comment on educational policy and learning.
One way to help youngsters enjoy reading is to find a book that they can engage with. The site lovereading4kids regularly reviews books. It also allows children to put up their own reviews on site.
Reading suggestion
(First published on www.lovereading4kids.co.uk)
Suitable for readers 13+
The Lovereading4Kids comment
July 2016 Book of the Month Hattie's life changes forever when she meets the great aunt she never knew she had. Gloria by name, and glorious by nature, this headstrong former actress, who likes a gin sling (or three), is in the early stages of dementia. "Memories are what make us who we are," Gloria remarks. "Without them we are nobody," and so she and Hattie embark on an emotional road-trip, retracing significant paths from Gloria's past. While Gloria battles memory loss and the turmoil that comes from disturbing one's ghosts, Hattie has her own problems. She's pregnant by her close friend Reuben. She hasn't told him, and he's just got together with a new "hot" French girlfriend…
As Gloria relives and reveals the heartache around own experience of motherhood, there's a strong sense of time running out for them both. Gloria doesn't know how long she'll have her memories, while Hattie has to make a decision about her pregnancy. "You can't be scared of regret," Gloria advises. "All you can do is make the choice that seems right at the time." And that's what Hattie does, as Gloria did before her.
This is a beautiful, bittersweet story about family bonds, the cycle of life and love in all its forms. ~Joanne Owen
Publisher Passion Piece: Non Pratt's Trouble meets Thelma and Louise with a touch of Elizabeth is Missing by Emma Healey, Clare Furniss' remarkable How Not To Disappear is an emotional rollercoaster of a novel that will make you laugh and break your heart.
Go to their website to download an extract.
Reader Reviews
Teens love to read and so in addition to our Lovereading expert opinion some of our Lovereading4kids Reader Review Panel were also lucky enough to read and review this title. You can read their full reviews here.
• Louisa Cunliffe, age 18 – 'How Not to Disappear is a book filled with important themes and ideas that are intertwined in a beautifully crafted story…If you want a book that will make you laugh, cry and think then this is a must read.'
• Lauren Coffman, age 15 – 'An immense journey of self-discovery, this book deals spectacularly with the themes of finding yourself, of forgetting, and of everything you were afraid of being forgotten, because 'without our memories, we are nobody'.'
• Edel Waugh – 'I highly recommend this amazing book. Truly wonderful!'
• Emma Hughes, age 15 – 'I really enjoyed this book- it was refreshingly different from most of the books I have read.'
• Lucy Smith – 'A book that captures the relationships across generations and amidst the modern family….i.e. there is no normal. An easy read.'
Story synopsis
How Not to Disappear by Clare Furniss
A secret past. An uncertain future. An unforgettable journey that will reveal them both. A stunning new novel from the bestselling author of The Year of The Rat.
Our memories are what make us who we are. Some are real. Some are made up. But they are the stories that tell us who we are. Without them we are nobody.
Hattie's summer isn't going as planned. Her two best friends have abandoned her: Reuben has run off to Europe to 'find himself and Kat is in Edinburgh with her new girlfriend. Meanwhile Hattie is stuck babysitting her twin siblings and dealing with endless drama around her mum's wedding. Oh, and she's also just discovered that she's pregnant with Reuben's baby…
Then Gloria, Hattie's great-aunt who no one even knew existed, comes crashing into her life. Gloria's fiercely independent, rather too fond of a gin sling and is in the early stages of dementia. Together the two of them set out on a road trip of self-discovery – Gloria to finally confront the secrets of her past before they are erased from her memory forever and Hattie to face the hard choices that will determine her future…

About the Author
Clare Furniss studied at Cambridge University and worked for several years in political media relations. She now lives in Bath and is completing an MA in Writing for Young People at Bath Spa University.
Take the Summer Reading challenge
Another way to encourage summer reading is to suggest the Summer Reading Challenge to your teenager.
The Summer Reading Challenge takes place every year during the summer holidays. You can sign up at your local library, then read six library books of your choice to complete the Challenge. There are exclusive rewards to collect along the way, and it's FREE to take part!
The Summer Reading Challenge website helps you keep track of your reading all year round: find new books to read, take part in competitions and play games.
Go their website to try out the 'book sorter'.