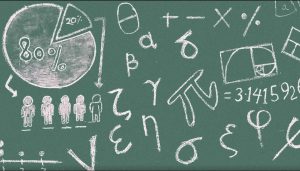 The examination period for this year's GCSE examinations has passed, and let's hope that your children gain the results they deserve. Next year the format will change. As parents, the most obvious change you will notice is the grading system. There will no longer be grades A* – U. The new grades are 1 – 9, where 9 is the highest grade achievable.

In the past the minimum grade accepted in GCSE examinations for the core subjects of Maths and English was a grade C. The new grades place an old low-grade C at grade 4 and a high-grade C at grade 5. The new target grades will be grade 5. There will remain tiered examination papers (Higher and Foundation), but the maximum grade that can be achieved in the Foundation Paper is grade 5. It is anticipated that there will be fewer A* equivalents, as the new grade 9 requires a higher mark.
The Maths GCSE examination will now have 3 x 1.5 hour papers, previously it was 2 paper.The results for the pupil will mean Maths has a double weighting (equivalent to 2 GCSEs). Inevitably, the extra exam paper means more testing and the syllabus has been extended to reflect this, making both Foundation and Higher Mathematics papers a bigger challenge.
Pupils may use a calculator in 2 of the 3 papers, as the additional challenges will focus on the conceptual and thinking Maths, and not number manipulation.
In summary, the game has changed. Pupils who are having difficulty with their Maths should think about seeking help early. The new rules set new challenges for schools, teachers and pupils. It is a very competitive academic world and sadly many pupils will feel even more challenged and pressured as we work our way through the new changes.
Please get in contact if you think your child may need help with their Maths tuition.