The following article appeared in the tes on 24 April 2018. At Tuition First we find this is a problem, but predominantly with younger pupils not at GCSE level.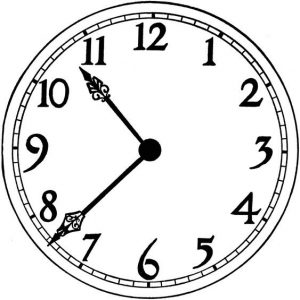 Why can't GCSE candidates tell the time using an analogue clock? 
Schools say they have had to install digital clocks in their exam halls
The small hand tells you the hours and the big hand tells you the minutes, but the traditional clock face no longer tells many pupils anything at all.
A teacher, giving a presentation at a conference in London, has said that many pupils in Years 9, 10, and 11 are only able to tell the time if provided with a digital clock.
She told participants: "It is amazing the number of students I am coming across in Year 10, 11 and in sixth form who do not know how to tell the time.
"We live in a world where everything is digital. We are moving towards a digital age and they do not necessarily have analogue watches anymore and they have mobile phones with the time on."
The teacher was speaking at a conference held last month by PIXL (Partners in Excellence), a partnership of more than 2,500 schools, sixth forms and alternative providers.
Her claim was backed up by delegates from a range of secondary schools, who said that it was common for GCSE candidates not to be able to read an analogue clock.
A number of 'Twitter teachers' agreed, with some pointing out that their pupils were unable to understand clock chimes.